Lizzy Sinatra & Gabriel Logan Braun
12
Nov
2017
Santa Monica , CA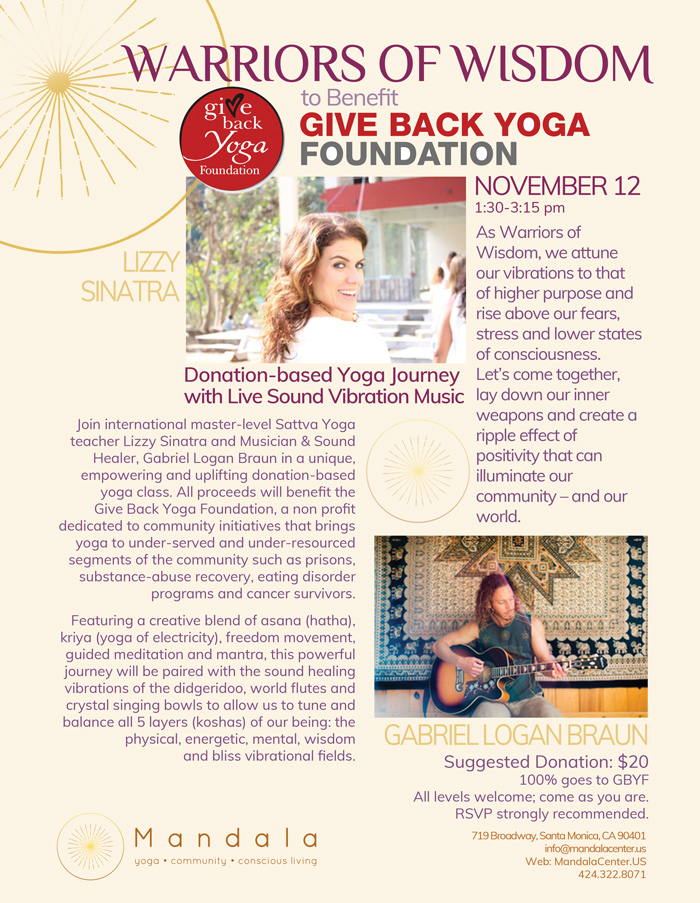 JOIN A GLOBAL MOVEMENT OF HOPE AND HEALING
Warriors of Wisdom: Donation-based Yoga Journey w/ Live Sound Vibration Music to Benefit the "Give Back Yoga Foundation" Non Profit
As Warriors of Wisdom, we attune our vibrations to that of higher purpose and rise above our fears, stress and lower states of consciousness. Let's come together, lay down our inner weapons and create a ripple effect of positivity that can illuminate our community – and our world.
Join international Master Level Sattva Yoga teacher Lizzy Sinatra and Musician & Sound Healer Gabriel Logan Braun in a unique, empowering and uplifting donation-based yoga class. All proceeds will benefit the "Give Back Yoga Foundation," a non profit dedicated to community initiatives that brings yoga to underserved and under-resourced segments of the community, such as in prisons, substance-abuse recovery and eating disorder programs, and for cancer survivors.
Featuring a creative blend of asana (hatha), kriya (yoga of electricity), freedom movement, guided meditation and mantra, this powerful journey will be paired with the sound healing vibrations of the didgeridoo, world flutes, crystal singing bowls, and guitar to allow us to tune and balance all 5 layers (koshas) of our being: the physical, energetic, mental, wisdom and bliss vibrational fields.
This Warrior of Wisdom yoga journey is designed for yogis of all levels –beginner to advanced – to evolve, overcome self-limiting beliefs, break free of stress and worry, and evoke inner joy and ecstasy. Let's unite and celebrate our very existence, while contributing to a cause that directly gives back to the yogic healing community.
All levels welcome; come as you are!
For information about the Yoga Makes Change event by The Give Back Yoga Foundation, please visit: https://givebackyoga.org/yoga-makes-change/
About Lizzy:
Lizzy received her 200hr, 300hr and Master Level yoga teacher trainings at the Sattva Yoga Academy in the Himalayas of Rishikesh, India, the birthplace of yoga. Lizzy teachers from the core of her being, allowing her presence and authenticity to guide students into deeper layers of self-expression. Through authenticity, vulnerability, passion – and of course a little humor – Lizzy creates a safe, encouraging and uplifting space for students from all walks of life to shift into a higher vibrational state of love. Choosing to teach free or community benefit classes, she has taught healing yoga for individuals for trauma, PTSD, and substance-abuse recovery for several years and founded yoga and meditation initiatives in several underserved communities. Lizzy also conducts one-on-one spiritual coaching, yoga and meditation therapy for individuals around the world. www.YogiLizzy.com or www.healthconsciousness.org.